I am a qualified Level 3 Personal Trainer and Gym Instructor, offering one-to-one personal training in Bedford.
I know first-hand what it's like to want to do something about your weight and health but feel it's so daunting that you don't know where to start, to feel trapped in your body and to have it hold you back from being yourself and doing what you want to do. Check out my full story here.
So I want to help you get the body you've always wanted and change your life forever! Whether you want to build muscle, lose a few pounds for an upcoming holiday or event or lose several stone and change your life completely, I can help you realise your goals! 
How we will work together
Initial consultation
We talk about you and your lifestyle, what you want to achieve, what barriers you may have – we set some realistic goals based on this. This doesn't have to be weight loss – it can be clothes size, measurements, how you look, how you feel, how much you can lift!

Plan building
I then build you a customised exercise and nutrition plan aimed at reaching your goals within an agreed time frame. This can include time in the gym with me, by yourself, or in the park or at your home if you can't get to the gym enough – whatever works for you and would help you stick to the plan!
We get started
We start the plan and have fortnightly check-ins but you can contact me with questions and support at any time. We keep track of your progress and adjust your programme if and when necessary.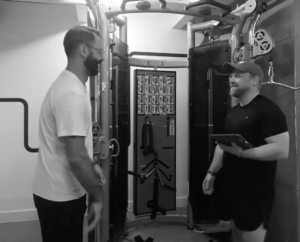 Prices
My basic rate is £35 per hour 1-1 session.
1 session a week: £140 per month (Total of 4 sessions a month)
Discounts on bookings of more than one session per week
10% for 2 sessions a week
12.5% for 3 sessions a week
15% for 4 sessions a week
Initial consultation, programme design and updates, regular access to me by phone/WhatsApp all included.
Enquiry Form
If you would like to work with me, please tell me about yourself by submitting the form below. I'll then get in touch and we'll have a no-obligation phone consultation.